The Iola-Scandinavia School District will be asking the community for continued financial support through a non-recurring referendum on the November 3rd ballot. Please visit our Referendum webpage for more details or attend an upcoming information session.
We received notice today that the district is able to offer free meals to I-S students beginning the first day of school (9/1). Free meals will continue through 12/31 or until funding runs out. This program is being funded through the USDA (US Dept of Ag). Food service balances will reflect the changes later today.
Beginning the next week (Monday, September 21st) breakfast and lunch will be available for students attending Iola-Scandinavia virtually. These meals are being provided free of charge through the USDA through 12/31/20 or until funding runs out. Meals can be picked up on Mondays and Thursdays from 10:00-11:00 a.m. at Door 30 at the Middle/High School. Please click the link below to complete the form if you will be participating in the meal program to help us get a count of meals to have prepared.
https://forms.gle/jNxXnc5j54fiZCPs8
All Iola-Scandinavia students will be able to receive free school meals beginning Monday, September 14th through December 31st. (This is being provided through USDA federal funds and will be available until 12/31 or until funds run out.) We will also begin offering free meals for all virtual students beginning Monday, September 21st. More information will be available in the near future. Please visit our website or app for daily or monthly lunch and breakfast menus.
If you haven't already done so, please complete the online student registration process for the upcoming school year through Skyward Family Access. Chromebooks for MS/HS students cannot be issued until registration has been completed (specifically the Computer Use Agreement). Also, it is especially important this year to ensure we have up-to-date contact information for our families to share important information and updates. (Check your e-mail for instructions about how to complete online registration.)
As we get ready to welcome students back into our buildings, we want to remind families that school and food service fees can be made online through our webstore. We highly encourage families to take advantage of this online option to help limit contact in our buildings.
https://iolascandinavia.revtrak.net/Food-Fee-Payments/
Please visit the COVID-19 page of the district website for I-S Instructional Guidelines (apparently there was in issue with the previously sent link)
Iola-Scandinavia families and staff: Please check your emails and the "News" section at the bottom right of the district website iola.k12.wi.us for the latest information regarding COVID-19 precautions, cancellations, and updates.
(No School) Just a reminder that students have a planned day off on February 28th. Teaching staff has a scheduled Professional Development day.
The boys basketball game for tonight at Iola-Scandinavia against Crandon has been cancelled.

The musical rehearsal for December 26th has been canceled. There still is rehearsal on December 27th.
We hope you have a wonderful holiday break. There will be no school December 23-January 1st. We will see you all back on Thursday, January 2nd.
Yearbooks are on sale now!!! $50 until November 26th Go to yearbook.jostens.com or contact Ms. Mitchell at
mitchellc@iola.k12.wi.us
for questions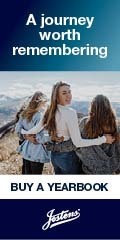 This is a test of the new messaging system for the Iola-Scandinavia school district. This is how school cancellations/delays will be communicated.
Middle/High school parent-teacher conferences are on Thursday, November 7th and Monday, November 11 from 4:00-7:30pm. 1st Quarter grades will be posted in your students Skyward portfolio by Thursday morning.

Just a reminder that there is no school for students on Friday, October 25th. This is a schedule professional development day for staff.
REMINDER: Our senior Financial Aid Night this Wednesday (October 2nd) at 5:30pm in the auditorium. We will discuss loans, grants, etc., and then move to the HS lab to work on filing your FAFSA. We hope to see you and your student there!
Just a reminder that school pictures are scheduled for grades 7-11 on Friday, September 20th. Have a great day!

Calling all children ages 3 to 4 who are not in school. Come participate in our Child Development Day on September 20th! Students will be encouraged to participate in a play setting where social, communication, motor, and early learning skills will be observed. All students will receive a free book, goodie bag, and snacks. Please call Katie Sroka at 715-445-2411 x1451 to register your child.

We're thrilled to announce Iola-Scandinavia School District's new app! Access sports scores, cafeteria menus, news updates, even emergency notifications! Download the app on Android:
http://bit.ly/2zc7Mit
or iPhone:
https://apple.co/2P51g7R
.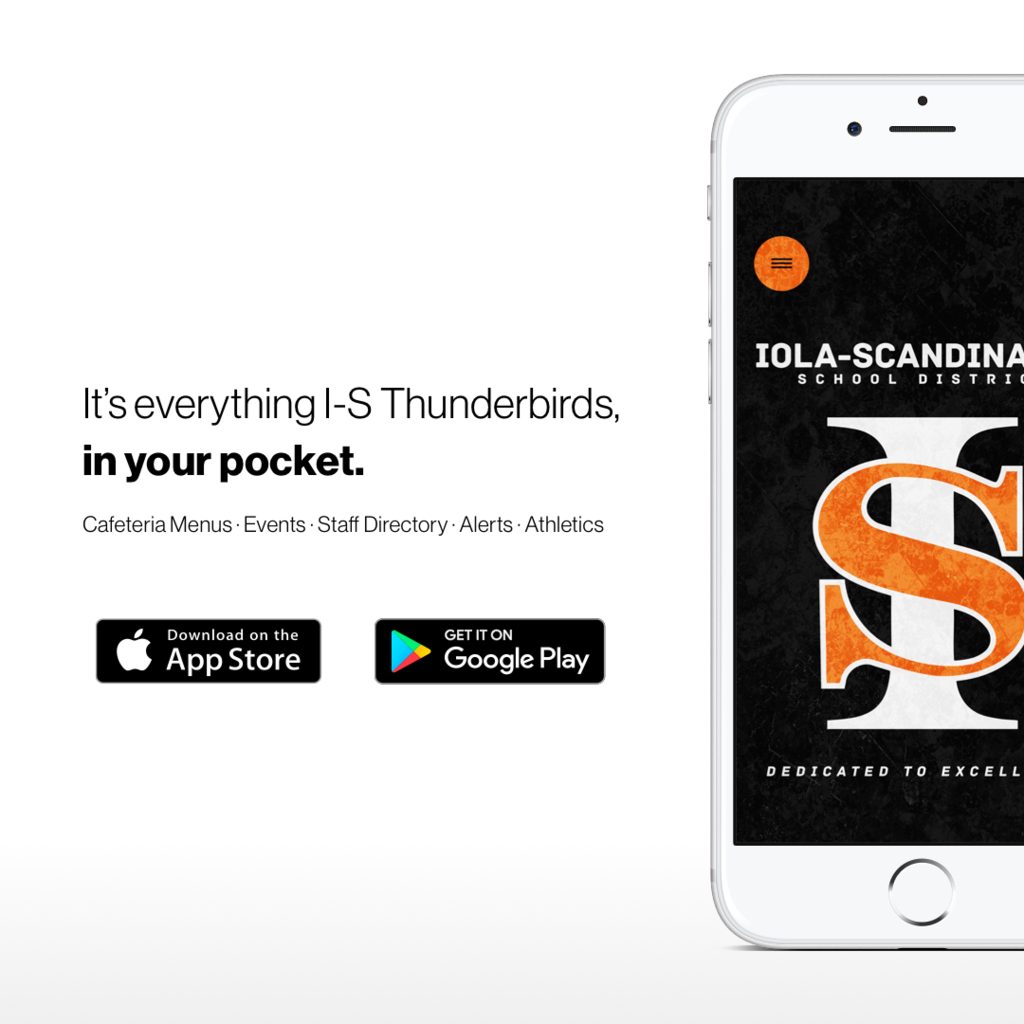 Bus Routes: We apologize for some confusion regarding bus routes for the new school year.  Routes for 2019-20 are mostly unchanged from 2018-19 and pickup and drop off times should be similar to those from last school year.  However, we ask families to be patient during the first few days of school and prepared for bus routes to arrive a few minutes early or later than scheduled. For families who submitted bus registration forms by August 23rd, post cards were mailed home with pickup/drop off times.  For registration forms submitted after August 23rd, Kobussen drivers and office staff were contacting families with bus route times as late as Friday afternoon. If you are unsure of bus route info for your child(ren) please plan for the same time as last year (allowing a 5-10 minute difference) or contact Kobussen at  
Iola.TM@Kobussen.com
 or 715-227-5100. Thank you for your patience and cooperation!

We are exciting to begin the school year with the district teaching staff on Monday, August 26th. The week will be full of opportunities for growth.

Welcome to the new look website. We hope you find the website useful and easy to navigate. Be sure to bookmark it on your phone, tablet and computer. We will be rolling out the App soon, so stay tuned.

Hello and welcome to the 2019-2020 School Year. If you plan to play athletics this school year please go to the middle school or high school information on the website and click on the word "Athletics". There you will find the link to register.