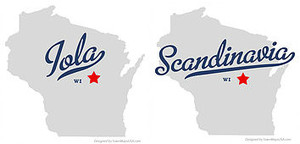 About the Iola and Scandinavia Communities:
The Iola-Scandinavia Community looks forward to numerous annual events including the Iola Old Car Show, Winter Carnival, Scandinavia Corn Roast, City Wide Rummage Sale, Historical Society Strawberry Fest, Iola Military Show, and a summer farmer's market.
Area attractions include the Fitness and Aquatic Center, Iola Winter Sports Recreation Club, and the Glacier Wood Golf Club. In the community there are miles and miles of back roads for bicycling plus trailhead access in Scandinavia to the Tomorrow River State Trail. The area contains many glacial moraines, pot hole lakes, and clear water streams, making it a fantastic outdoor recreational area. The area offers something for hunting, fishing, snowmobiling, skiing, and golf enthusiasts!