School Cancellations/Delays With winter weather in our future, we want to remind families and staff that school closings/delays will be shared by text, email, app notification, website and social media post. Please make sure to contact the school office if any of your contact info needs to be updated. School cancellations/delays will also be shared with the following radio and tv stations: WFRV (Channel 5), WAOW (Channel 9), WSAW (Channel 7), WBAY (Channel 2), WLUK (Channel 11), WGBA (Channel 26), WIFC, WDEZ and WDUX.

December menus are now available in the dining section of our website/app and on our School Nutrition webpage (t.ly/mYZC).

Our phones are back up and running. Thank you for your patience!

The Iola-Scandinavia School District is having issues with our phone system and we are not able to receive incoming or make outgoing calls. We are working to resolve this asap. The best way to contact the school is by email until we are able to get this fixed. We will post updates here as they are available and we appreciate your patience as we work through this issue.

The Varsity Football game vs. Wittenberg-Birnamwood is canceled for Friday night. The Game is rescheduled for Saturday, August 28 @ 1:00pm in Scandinavia.

There will be an Open House for Elementary and Middle/High school students on Wednesday, August 25th from 5-7 pm. Middle/High School students will be able to pick up their school issued Chromebook if they have their registration forms completed. We look forward to seeing you!

Remember to complete the transportation registration form if your student will be riding the bus this year. t.ly/Q9LI

If you haven't already done so, please complete online registration for your student ASAP. This is especially important for MS/HS students to ensure they have all the forms completed to receive their Chromebooks at Open House or on the first day of school!

I-S students will able to receive FREE school breakfast and lunch for the 2021-22 school year due to funding through the USDA. Families are still encouraged to complete Free/Reduced meal applications, which should be arriving in the near future, to potentially qualify for other state or federal programs. Visit the School Nutrition webpage for more details and to find September menus. t.ly/ssoh

The 2021-22 school year COVID Protocol/Plan was approved by the I-S School Board at their August 2nd meeting. Click below for the details. t.ly/uIHJ

We just learned of an issue with Skyward emails not sending when trying to reset your login or password. We believe the issue has now been resolved. If you are still having difficulty logging in to your Skyward account, please contact the school office.

Power and phones are back up and running and buildings are open today. Thank you for your patience!

As a results of last night's storms there is no power at the Middle/High School or the Fitness and Aquatic Center today, resulting in the buildings being closed. The power issues are also affecting internet and phones. We will provide updates as the situation changes. Thank you for your patience and cooperation!

Online registration is now open for all students returning for the 2021-22 school year. Families can access online registration by logging in to their Skyward Family Access Account. We ask families to take the time to complete online registration by the end of July to help us prepare for the upcoming school year. Families of students new to Iola-Scandinavia are encouraged to pick up paper registration packets at either school office to enroll your child and receive important updates about the start of school. We look forward to welcoming all of our students back on September 1st for the 2021-22 school year! Enjoy the rest of your summer break! Skyward Family Access (t.ly/mY7B) Online Registration Instructions (t.ly/byfC)

School Bus Drivers Needed for 2021-22 Kobussen is facing a critical need for bus drivers, particularly for extra curricular trips. If you or anyone you know is interested in learning more about what it takes to be a driver, for either a regular school route or part-time as an extracurricular driver, stop by the Kobussen open house on July 7th for more information (see attached). Kobussen is also offering a $1500 sign-on bonus at the open house! Being an extra-curricular driver might be a perfect option for T-bird fans and coaches...this would be a great way to attend games/events and travel with the team, all while being paid! If this is something you or someone you know may be interested in, please share this message! We appreciate your help as we try to reduce the driver shortage to ensure a successful 2021-22 school year! (For more information please contact Jacob Elsner, I-S Terminal Manager, at 715-227-5100 or
jacob.elsner@kobussen.com
)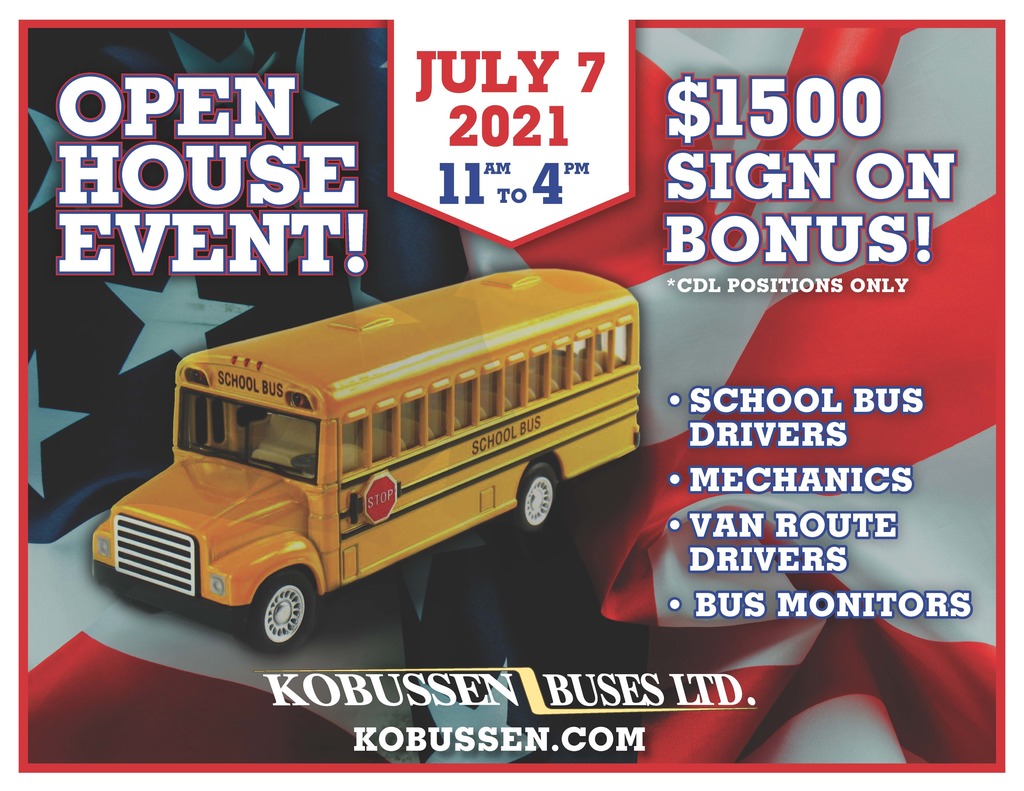 No School for Middle School - March 9th Middle School students (7th and 8th grade) will not have school virtually or in person on Tuesday, March 9th. The Junior class will be taking the required ACT test on March 9th during the school day. In order to have the ACT test administered with the required safety protocols, as well as the required trained proctors, the middle school wing and the middle school teachers will be used to administer the ACT test.

Due to the forecasted weather, there will be no school tomorrow (Thursday, Feb 4th).